German firm creates hi-tech pen that vibrates on error
Submitted by Darpana Kutty on Wed, 02/06/2013 - 11:37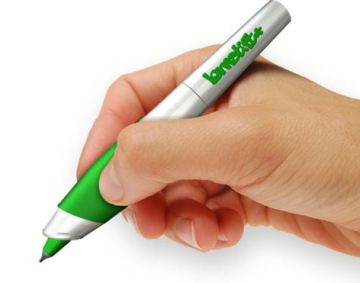 A German firm has created a new hi-tech pen that vibrates when the user makes a grammatical error or a spelling mistake while writing.
Lernstift has developed the smart pen for younger users to help them learn to write but the product might be accepted by users of all ages. The product is still at the prototype stage and will need some time before it is launched to the public.
The pen will be able to detect errors in spelling or letter formation in real-time and will warn the user by vibration. The pen will have two modes; Calligraphy Mode that will point out mistakes in form and legibility or Orthography Mode that will identify orthographic and grammatical mistakes and alert the users.
Developers say that the sensors in the pen are capable of identifying different ways of writing letters but vibrate immediately after it detects mistakes in writing. Creators Falk and Mandy Wolsky were inspired to create the hi-tech pen after observing their son's attempts to write at an early age.
The company said that it believes that the new pen will allow the children to learn to write more accurately and quickly.