Google's brings Google Search and Chrome browser to Windows 8
Submitted by Mitra Pathak on Mon, 10/29/2012 - 20:22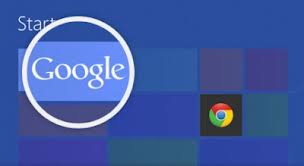 In an evident attempt to benefit from the Windows 8 hype as well as to get the users of new Windows 8 devices to use the Google search engine and the Chrome browser at the earliest, Google has recently launched a `Get Your Google Back' website.
The website underscores Google efforts to maintain its relevance in the Microsoft ecosystem, and has specifically been designed with the aim of prompting the Windows 8-device users to switch from Microsoft's Internet Explorer
(IE) browser to Google Chrome; and from the Bing search engine to the Google search engine.
With the `Get Your Google Back' website having been launched to get Google products on to Windows 8, the simple switch-over process chiefly involves the installation of Windows 8, the opening of IE, and directing it to getyourgoogleback. com. The website then prompts the installation of the Google search app for Windows 8.
The Google Search app and Chrome browser which Google has developed for Windows 8 makes Chrome the default browser on the home screens of devices running Windows 8; and knocks off Microsoft's Bing search engine in favor of the more popular Google search.
Noting that Chrome on Windows 8 has been tailored for touchscreens and that Google Search app "comes with a clean and recognizable user interface," Tamar Yehoshua - Product Director of Google Search - said in a recent blog post: "The image search and image previews are built for swiping."