Govt Considers Setting Up Nodal Broadcasting Authority
Submitted by Neha Malik on Tue, 05/04/2010 - 19:19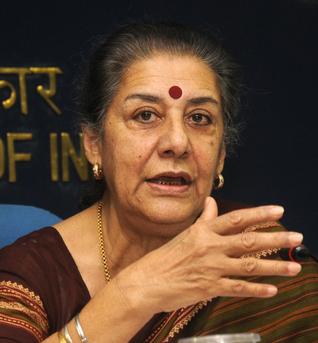 The administration is considering setting up a nodal broadcasting authority, to handle issues like foreign direct investment (FDI), digitalization, spectrum and growth of TV ratings, aside from content regulation.
In December 2009, a working party was established for such an agency, and on Monday, Information and Broadcasting Minister Ambika Soni pointed out that a concluding decision could come shortly.
It is expected to be named as the Broadcasting Authority of India, she said.
Ms. Soni said, "Right now, we send most of these issues to TRAI [Telecom Regulatory Authority of India], but they already have plenty to do."
"We are revisiting TRAI, bringing our issues back to our own Ministry." TRAI is scheduled to respond to the Ministry on broadcasting concerns by June 30," she said.
On the matter of a content code, Ms. Soni stated that the Ministry was setting up a plan and a method for co-regulation, rather than leaving it to the media to self-regulate itself alone.
On the occasion of World Press Freedom Day, Ms. Soni declared the growth of a system for journalists' wellbeing.
Those from the electronic media have also been included under the Journalist Welfare Fund plan to offer ex-gratia relief to journalists. The compensation sum has also been raised from Rs 1 lakh to Rs 5 lakh in case of death or permanent disablement. (With Inputs from Agencies)