Govt panel dubs Chhattisgarh industrial push as land grab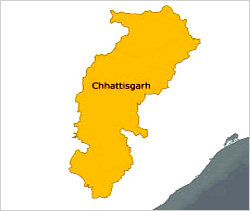 A government committee on land reforms has described the industrialisation drive in Chhattisgarh's iron-ore rich Bastar, Dantewada and Bijapur districts as the "biggest grab of tribal lands after Columbus."
The committee's observations are based on the move to displace 350,000 tribals from these districts for setting up steel and power plants with a total investment of Rs 20,000 crore.
The committee on State Agrarian Relations and Unfinished Task of Land Reforms said, "This open declared war will go down as the biggest land grab ever… the drama being scripted by Tata Steel and Essar Steel who wanted 7 villages or thereabouts, each to mine the richest lode of iron ore available in India."
They were referring to the clashes between Salwa Judum, a state sponsored anti-naxal movement and the Communist Party of India (Maoist).
The 15-member committee was constituted in January 2008 to examine issues relating to alienation of tribal lands including traditional rights of the forest-dependant tribals and to suggest realistic measures.
It said private companies were encouraging Salwa Judum to gain control over these areas.
"The traders, contractors and miners waiting for a successful result of their strategy are behind the Salwa Judum. The first financiers of the Salwa Judum were Tata and Essar in the quest for peace," it said.
The panel said a "civil war like situation" prevailed in these districts.
"Villages sitting on tons of iron ore are effectively de-peopled and available for the highest bidder… Both Essar Steel and Tata Steel are willing to take over the empty landscape and manage the mines," the committee said in its report.
The report was submitted to Rural Development Minister C. P. Joshi, who then referred it to the National Land Reform Council, headed by the Prime Minister.