Greece to send medical and food aid to Myanmar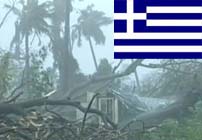 Athens  - Greece said on Tuesday it would donate 200,000 dollars to Myanmar and send its first plane of humanitarian aid to the country which has been struck by Cyclone Nargis as soon as airports opened.
Greek Foreign Minister Dora Bakoyianni said the government would donate the money immediately and send a medical and food aid by plane as soon as Myanmar's airports re-open.
Several countries have pledged aid to Myanmar - including Germany (750,000 dollars), the United States (250,000 dollars) and India, which has sent two ships with supplies. The European Union has pledged 3 million dollars to help Myanmar cope with the humanitarian catastrophe.
On Tuesday afternoon, neighbouring Thailand flew in more than 300,000 dollars worth of medical and food aid, and a planeload of similar supplies from China was also sent.
Hundreds of thousands have been left homeless and without basic utilities by the cyclone, which blew off the Bay of Bengal late Friday, packing winds of up to 200 kilometres per hour, wrecking much of the country's already fragile infrastructure and threatening its precarious food supply.
Yangon, Myanmar's former capital, was hit hard by the storm, which uprooted trees, toppled electricity and telephone poles, and burst water pipes, leaving the city of several million without basic utilities. (dpa)