HDFC to raise Rs 4000 crore via NCDs
Submitted by Harish Dhawan on Wed, 06/10/2009 - 13:27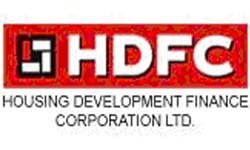 Housing finance major HDFC has informed that it has finally secured approval from company's board of directors to raise Rs 4000 crore.
The proposed amount will be raised through a combined offering of secured redeemable non-convertible Debentures (NCDs) along with warrants.
Reports suggest that this is the first time in recent years a major financial institution is hitting the market with such an instrument.
The company stated in an official release, the NCDs along with the Warrants will be issued to Qualified Institutional Buyers on a Qualified Institutional Placement basis pursuant to and in accordance with the provisions of SEBI DIP Guidelines.
However, the issue of NCDs with warrants is subject to the approval of the shareholders at the Annual General Meeting to be held on July 22, 2009. Both the NCDs and Warrants will be listed separately on the recognized Stock Exchanges.
Further, the company has informed that the warrant holders would have the option to purchase equity shares of HDFC in exchange of the warrants in a future date. But, the maximum dilution on conversion of all warrants to shares would be 3.5 percent of the expanded capital.
Sharekhan, a well-known broking cum researching house, has recommended to partially book profits in HDFC, with a price target of Rs 2517 in its June 05, 2009 research report.
The shares of the company closed today at Rs 2355, up 1.20% compared to previous close of Rs 2327.
Technology Sector