Hyderabad Reports Fresh Swine Flu Case
Submitted by Mohit Joshi on Tue, 04/27/2010 - 08:28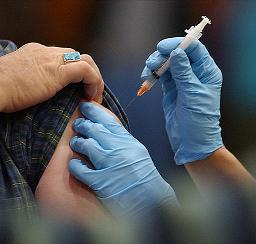 Swine flu seems to be making a comeback in Hyderabad as one new case of H1N1 flu has been reported on Friday.
The new swine flu case has created panic among the residents and the government.
The new H1N1 case was from Nizamabad region where a 43-year-old person tested positive for the deadly flu on Friday.
The victim has been admitted to ICU of Government General and Chest Hospital at Erragadda.
Dr. K Subhakar, Chief Coordinator of Swine Flu Cell at the Chest Hospital, stated, "The patient has been kept on ventilator and his condition continues to be critical. He is under observation for 48-hours."
"The swine flu virus has so far claimed two lives in Andhra Pradesh this year while four cases including the present one have tested positive for the flu virus," the reports added.
Around 786 persons tested positive for H1N1 flu in 2009 where 53 fatalities were reported because of swine flu in the state, the Health Department official said.
It must be remembered that the city in south central India in Andhra Pradesh reported its H1N1 case on May 16, 2009. (With Inputs from Agencies)
Tags in Regions