Now, the UK govt plans to pay fat people to lose weight
Submitted by Mohit Joshi on Thu, 01/24/2008 - 06:46
London, Jan 24: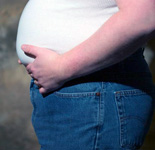 The British govt has decided to wipe out the obesity epidemic through a novel strategy – by offering fat people cash incentives.
According to the latest measure, employers will be urged to set up competitions with money, vouchers and other rewards for people who renounce junk food in favour of healthy eating and living.
And those who will shed the maximum amount of pounds will earn the biggest prizes, reports the Telegraph.
The announcement comes after experts estimated that most of the population in Britain would be obese by 2050 unless urgent action is taken and the related rise in ill health would cost the NHS 50 billion pounds a year.
According to ministers, giving people incentives to fight the flab will help avoid larger costs associated with treating cancer, heart disease and diabetes caused by obesity.
The govt said that it wants to make Britain the first major nation to quash the rising tide of obesity.
And the milestone strategy - Healthy Weight, Healthy Lives – is their solution to the problem.
Healthy Weight, Healthy Lives will feature a series of projects run through the Well@Work scheme, led by the British Heart Foundation, which offer rewards for workers who lose weight.
One competition, called The Biggest Loser, has a 130-pounds gift in store for the participant who loses the most weight.
"We will look at using financial incentives, such as payments, vouchers and other rewards, to encourage individuals to lose weight and sustain that weight loss, to eat more healthily, or to be consistently more physically active," the strategy said.
Though it is unknown who would finance such schemes but the onus is likely to be on companies as they could expect to benefit from a healthier workforce.
The UK Government is investing 372 million pounds over three years to implement the strategy and annual progress reports will be published.
Dr Ian Campbell, the medical director of Weight Concern, said work-based incentive schemes were a "win win" because the employer benefited from a workforce that was less likely to take time off sick, while employees improved their health.
A spokesman for the Department of Health said: "The use of incentives is at a very early stage. We are working with the experts, looking at the success of schemes worldwide that have been used in the public and private sector." (ANI)
Tags in Regions