Hold Delta Corp With Stop Loss Of Rs 87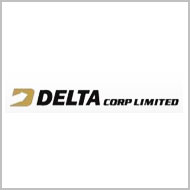 Investment advisor Pradeep Surekha has maintained 'hold' rating on Delta Corp Limited stock.
According to analyst, the investors can buy the stock with a stop loss of Rs 87 or 83.
The stock of the company, on April 27, opened at Rs 93.45 on the Bombay Stock Exchange (BSE).
The share price has seen a 52-week high of Rs 141.65 and a low of Rs 31.15 on BSE.
Delta Corp has registered profit after tax of Rs 165.7 crore in the fiscal year 2010-11, an increase of 1269.4% as against Rs 12.1 crore in the same period last year.
Net sales surged 184% to Rs 376 crore as compared to Rs 132.5 crore in the corresponding period.
Company profit after tax (PAT) grew by 1267% to Rs 24.6 crore as against Rs 1.8 crore on year-on-year basis.
But, EBIDTA dropped to Rs 91 lakh from 9.82 crore and EBIDTA margin increased at 2.3%, much lower as against 31.8% in Q4FY10.
The company's directors during its meeting held on April 26, 2011, has announced dividend @ 30% i.e. Re. 0.30 per Equity Share of Re. 1/- each and @ 8% i.e. Re. 0.80 per Preference share of Rs. 10/- each.
From the approval date, the dividend will be paid within a period of 30 days.