Hold Surya Pharma With Stop Loss Of Rs 260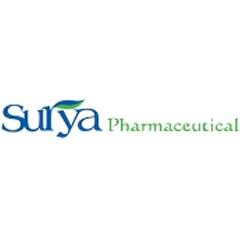 Technical analyst MB Singh has maintained 'hold' rating on Surya Pharmaceutical Limited stock with a stop loss of Rs 260.
According to analyst, the investors can exit on every rally.
The stock of the company, on December 21, closed at Rs 292 on the Bombay Stock Exchange (BSE).
The share price has seen a 52-week high of Rs 355.90 and a low of Rs 142.20 on BSE.
On 06 December 2010, the directors of Surya Pharmaceutical sanctioned the company's sub-division of equity shares, comprising the paid-up shares, such that each subsisting 1 equity share of the company with the face value of Rs 10 each be sub-divided into 10 equity share with face value of Rs 1 each.
Surya Pharmaceutical registered a substantial growth in its standalone net profit for the three month period ended September 2010.
During the July-September period, the company's profit grew by 35.21% to Rs 257.47 million as compared to Rs 190.43 million in the corresponding period previous year.
Net sales for the period under review increased 45.41% to Rs 3,966.50 million.
The company's total income for the three month period zoomed 44.58% to Rs 3,982.05 million, when compared with the earlier year period.
The company recorded 35.26% increase in its EPS, which stood at Rs 17.80 per share.