Honda launches Brio Amaze sedan in Thailand
Submitted by Divesh Sharma on Fri, 11/23/2012 - 22:21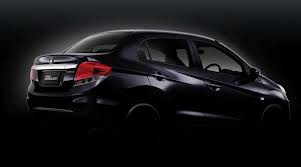 Auto giant Honda has just announced the launch of its much-awaited Brio Amaze sedan in Thailand, but Honda fans in India will have to wait more as the company has no plans to launch it in the Indian market before next financial year.
Honda Cars India announced its launch plans for the Brio Amaze in Thailand and India earlier this month.
The company said in a statement, "Brio Amaze will be launched in Thailand and India... The details of the model will be announced later this month in Thailand and next financial year in India."
The Amaze sedan comes equipped with a state-of-the-art engine developed by Honda's former F1 team.
In Thailand, Honda has launched the Brio Amaze in a total of four variants, viz. the Brio Amaze S MT, the Brio Amaze V MT, the Brio Amaze S AT and the Brio Amaze V AT.
In India, the Brio Amaze will be made available in a petrol engine as well as a diesel engine variant. The Brio will be positioned in the entry-level sedan segment in the India market, where it would be against rival cars like Maruti Suzuki Dzire, Mahindra Verito CS, Toyota Etios and Tata Indigo CS.
The Honda Brio Amaze will be available with a starting price tag of around Rs 8.18 lakhs, while its top end variant will cost nearly Rs 9.39 lakhs.