Hussey replaces Dhoni as top ODI batsman
Submitted by Bhuvan Kala on Tue, 02/02/2010 - 13:35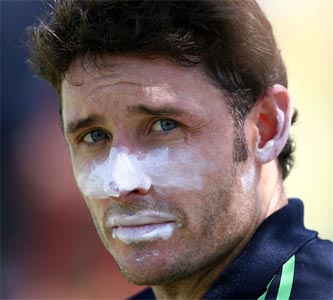 Australian middle order batman Michael Hussey has dethroned Indian skipper Mahendra Singh Dhoni from the top spot in the latest International Cricket Council (ICC) rankings for batsmen in one day international released on Monday.
Hussey had scored 220 runs at the average of 73.33 in the recently concluded ODI series against Pakistan. Hussey gained 24 points and jumped to number one position with a lead of three points over second placed Dhoni, while South Africa's AB de Villiers is placed at the third spot.
Indian cricketing legend Sachin Tendulkar has gained one place to be at the seventh place while aggressive opener Virender Sehwag retained his ninth place.
New Zealand captain Daniel Vettori is leading the ICC ODI rankings for bowlers followed by Ray Price of Zimbabwe and Shakib Al Hasan at second and third spot respectively. Harbhajan Singh is the only Indian bowler in top 10 blowers to be at sixth place.
Australia has retained their top place with 133 points in the ODI team rankings while Indian team is placed at the second place with 121 points. South Africa is at the third position with 119 ranking points.