I want to do my husband's seva - Rakhi Sawant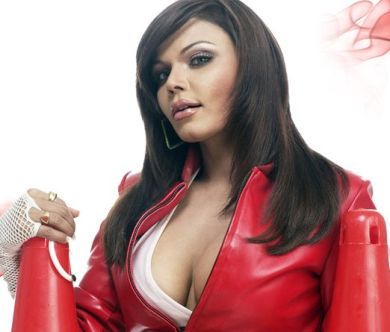 Rakhi Sawant get's up front and personal regarding her marriage on NDTV Imagine's  Rakhi Ka Swayamvar.
Why marriage?
I want to settle down. I have worked a lot, made good money.  Now I am
feeling lonely. And like all Indian woman, I too want to have a loving
husband, caring in -laws and God willing, later kids as well.  I also
feel the need to come home to somebody after a hard day at work.
Unlike popular perception, I am quite a traditional girl at heart, I
want to do my husband's seva.  I will also touch my mother in law's
feet as the way to a man's heart does lie through his mother.
Will you work post marriage?
Yes I hope to work if I get time from my domestic responsibilities  
Dance is my passion and I would not want to leave that. Everything is
possible, if I get a broad minded husband.
But sometime back on Karan Johar's show, you had said that you will not marry?
Agreed I had said that, but then things do change. Most girls in the
industry will not want to get married, until they are established.
What's your personal take on marriage?
Marriage is a holy institution, a sacred commitment.  It's quite sad
that these days' people walk in and out of marriage in a jiffy. I
believe in the age old concept of Jeena Marne Ke Kasme.
Describe your ideal dhula?
He should be smart, fit, confident, honest, caring and above all should
respect woman. I will not change my lifestyle for him. I don't go for
caste, language or religion.  Hence he can be a Hindu, Christian Muslim
or anybody.   I am open for even a good NRI groom.
Should he be rich?
He should be capable enough to take care of me. My husband should earn
at least Rs 5000 a month, so he can be rickshaw driver as well.
Alternatively a doctor, engineer or even actor will also do.
Would you want a ghar jamai?
No I want to move to in laws place.
Would you slap your husband like the way u clipped ex beau Abhishek?
Everybody makes mistakes and so did I in choosing him.  But I am
hopeful that it will not happen again and I also expect my maika NDTV
Imagine to help me zero on Mr. right.
Can we expect season 2, where we will cover your divorce?
Please would you wish the same for your sister or daughter?  I expect your blessing's to have a long and blissful martial life.
There are supposed to be 15 prospective contestants, but what will happen if you like somebody quite early?
No I will check all properly. I will test ride them all.
Why marriage on TV?
I want to do things differently. I did not want to go through the
normal routine of a guy coming to see me over tea and try to judge me
in a short while.  On my show, I will get time to properly understand
each guy and then only make an informed choice. I owe my name and fame
to television; hence I want to invite the entire media to cover my
wedding.  I am not like some celebrities who don't even allow the media
into their gates. They forget that its public who makes them who they
are.
Why a Swayamvar?
It shows that woman have arrived and we can now choose our man.  After
Sita's Swayamvar mine will be next, even if  I don't get Ram, I will
surely  get Shyam.
Among the celeb who would you to get married to?
Rahul Gandhi is a good bet. Hope he sees me today as I look very
beautiful in the bride's outfit . Please also mention that I would love
to get hooked to a cricketer.
How should your guy propose to you?
He should come straight like Salman Khan,  be open like Aamir Khan and kiss my hand  like Shahrukh Khan.
You like to create publicity?
Why blame only me? what about Akshay  Kumar, who gets his trouser's
unzipped by his wife in public. Most other reality shows have
artificial drama, but I am truthful and always speak from my heart.
Have you taken any money from the channel?
No not a pie. Why should I? This was my concept and they have graciously agreed to host it, what more can I ask for?
But they will use you for publicity?
Don't NEWS channels do the same, when they air my sound bytes and visuals.
What are your honey moon plans?
After marriage I would like to go to Switzerland or New Zealand.
Do you have your folk's blessing?
My mother has no idea about this plan. But I feel that this is my life
and I deserve the right to choose my own life partner. I am hopeful of
winning their blessings though.
What will your husband get in dahej?
You see, I am already dressed in gold. He will get India's number 1
item girl as his beloved. I also promise him love and honesty. 
How will other girl's benefit from your marriage?
Possibly other single girl's may get inspired by my action and also
hold similar swayamvars in their respective cities and towns. -Sampurn Media