India committed to Maldives' security & stability: Sushma Swaraj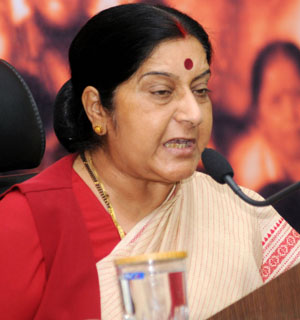 Male : India on Monday reaffirmed its strong commitment towards security, stability and prosperity of Maldives while favouring expansion of ties in areas like trade and investment.
External Affairs Sushma Swaraj held talks with her Maldivian counterpart Dunya Maumoon during which bilateral and regional issues of mutual interests were discussed.
Swaraj made a transit halt here on her return from Mauritius, where she was on a three-day visit.
Both Ministers discussed matters of bilateral importance, including upcoming projects in Maldives executed with India's assistance.
During the meeting, Swaraj extended Victory Day greetings to the people of Maldives and the Foreign Minister and reiterated India's strong commitment towards prosperity, stability and security of Maldives, officials said.
She also noted that India and Maldives were entering the 50th year of establishment of diplomatic ties and several events would be organised in the coming year to commemorate this important milestone in the bilateral relationship.
Over the years, India has extended economic and technical assistance to Maldives including in the areas of health, education, human resource development, infrastructure development and capacity building.
(PTI)