India has not been firm with Pakistan: Sushma Swaraj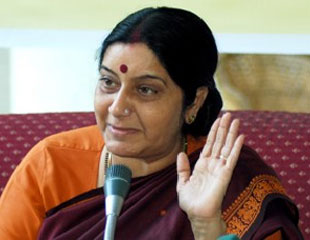 New Delhi, April 30 : As the family of Indian death row prisoner in Pakistan Sarabjit Singh said he was "clinically dead", opposition leader Sushma Swaraj Tuesday slammed the government for not dealing with Islamabad "firmly".
"Whatever happened with Sarabjit in Pakistan, India has not talked as firmly with them (Pakistan government) as we should have," she said in response to a question.
"This is not an isolated incident; even when the beheaded our soldiers, our minister invited their prime minister for lunch in Ajmer," she said, referring to the lunch in Jaipur hosted by External Affairs Minister Salman Khurshid for Pakistan Prime Minister Raja Pervez Ashraf in March.
"When we offered them (26/11 attack convict) Ajmal Kasab's body, they refused to accept it, and then they passed a resolution on why (parliament attack convict) Afzal Guru's body was not handed over..." she added.
Raj Kumar Verka, vice chairman of the National Commission for Scheduled Castes, said in Amritsar Tuesday that he spoke to Sarabjit's sister Dalbir Kaur who told him that doctors have said that Sarabjit was "brain dead".(IANS)