Indian rupee falls 23 paise against the US dollar
Submitted by Sumeet Kak on Wed, 04/11/2012 - 20:23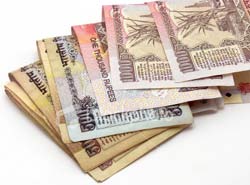 The Indian national currency, the Indian rupee has depreciated 23 paise against the US dollar to touch a three month low of 51.70 this morning due to weak opening in the domestic stock exchanges and high demand for the US dollar from importers in the country.
The rupee opened weaker at 51.51/52 per dollar at the Interbank Foreign Exchange (Forex) market compared to the previous day's close of 51.47/48 and dropped further to 51.70. The currency was trading at the level of 51.52/53 per dollar at the time of reporting this morning.
The rupee moved in the range of 51.45-51-70 against the dollar during the morning deals. According to dealers in the foreign exchange market, strong demand for the American currency from importers, a few banks and oil importers added pressure on the Indian rupee.
On the other hand, the weak Indian stock markets also impacted the rupee's value in the market. Dealers expected the rupee to remain weak in the coming days due to various global factors and domestic reasons.
The benchmark, Sensex index of the Bombay Stock Exchange (BSE) fell 134.13 points or 0.78 per cent in the early trade this morning.