Indian rupee trading at 55.05 against US dollar
Submitted by Sumeet Kak on Mon, 01/07/2013 - 21:55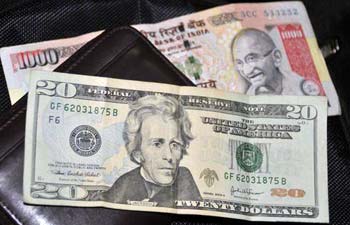 The Indian national currency was once against trading at the 55-levels against the US dollar following the stability in the Indian as well as other Asian stock markets.
The Indian rupee opened today at 55.01 against the US dollar after the American currency strengthened due to the relaxation of the earlier draconian draft of new global bank liquidity rules by the Basel Committee of banking supervisors. The Indian rupee had closed at 55.06 per dollar on Friday.
The rupee gained 54.90 against the US dollar in the early trade and was trading at 55.05 following low capital outflows from the market this afternoon. The Indian rupee is expected to gain in the coming weeks due to indications that the country's central bank, the Reserve Bank of India (RBI) might cut key interest rates during its monetary policy review on January 29.
Meanwhile, the US Dollar Index rose 1 percent week from the previous week and closed higher after moving in higher and lower territories. The Indian rupee had fallen 0.3 percent in the week due to indications of weak global sentiments and strengthening of the Dollar Index.