Indigo Expending Its Sky to Dubai, Bangkok and Singapore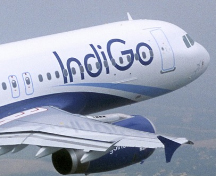 IndiGo, one of the popular airlines in India, particularly among the middle income people is looking high to expand its sky of operations through three important international air routes- Dubai, Bangkok and Singapore.
The flights are believed to be starting from September onwards. While adding a spark to the forecasted proposal, the airline has announced a promotional return fare of Rs 9,999, approximately 33% cheaper fare as compared to rival businesses. It is anticipated that the inaugural fare will be offering 25,000 seats along with 1,260 seats on offer per week and a 20-kg limit on free baggage.
The airline would be offering its services daily on the Delhi-Bangkok and Delhi-Singapore routes and also plans to connect Mumbai with Dubai and Bangkok from October.
"We are not only the fastest growing LCC in India but anywhere in the world. The load factors on these routes are great and the current players, whose cost structure is much higher than us, are earning a fair amount of profit", notified the IndiGo President, Aditya Ghosh.
With a crew of 4,056 employees, the company has expressed enthusiasm to appoint 200 pilots along with 900 cabin crew and 600 engineers over the next 18 months.