Infosys share fall 12.61 per cent
Submitted by Gaurav Mehra on Sat, 04/14/2012 - 22:03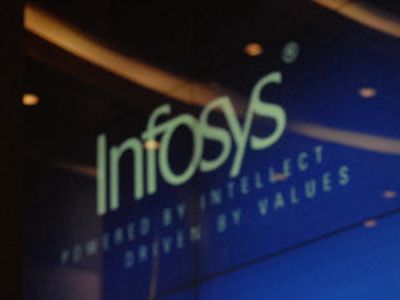 The shares of Infosys Technologies fell 12.61 per cent on the Bombay Stock Exchange (BSE) after the company announced its fourth quarter results till March 2012.
One of India's leading software exporters said that it has seen an unexpected fall in revenue and net profit in the quarter. The fall in share prices resulted in a fall in most other IT stocks and the BSE IT index fell to close 8.76 per cent lower.
The company's revenue in the quarter fell 4.8 per cent to Rs 8,852 crore and net profit fell 2.4 per cent to Rs 2,316 crore. The company had originally aimed for 20 per cent growth in 2011/12 but was forced to revive it downward to 16 per cent during the year due to various reasons.
Infosys guided to full year revenues in the range of $7,029 million and $7,033 million during the December quarter. The company is likely to target a growth rate of between 11 and 13 per cent in 2012-13 as predicted by industry body Nasscom.
The company's year-on-year revenue recorded a growth of Rs 8,852 crore in the fourth quarter compared to Rs 7,250 crore in the same period in the previous year. The net profit increased 27 per cent to Rs 2,316 crore from Rs 1,818 crore in the same period in the previous year.
Infosys CEO S D Shibulal said, "During the month, we saw an unprecedented convergence of multiple events. We saw contract delays, delays in some of the anticipated ramp-ups, as also ramp downs in quite a few accounts, especially in the financial services sector in the US."
He also said that the coming year will be difficult for the IT industry. Even as national economies begin to recover around the world, the businesses are still cautious on spending on IT services.