Jaitley asks why Congress has stopped compensating border area farmers
Submitted by Sarthak Gupta on Fri, 04/18/2014 - 23:18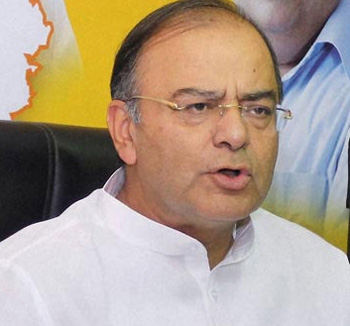 Amritsar, Apr 18 : Addressing rallies in Amritsar District's Dhariwal, Bachiwind and Chogawan Villages on Friday, Bharatiya Janata Party ( BJP) candidate Arun Jaitley praised the spirit of farmers for sacrificing their produce and earnings for the cause of the nation.
Jaitley, who travelled to the border areas to get a feel about farmer-related concerns, used his visit to these areas to express his solidarity with them and promised them full co-operation and compensation should he be elected by them.
He criticised the central government on the issue of stopping the compensation scheme started by the Atal Behari Vajpayee Government.
Accusing the Centre of indifference towards the woes of farmers, he asked Congress candidate and former Punjab chief minister Captain Amarinder Singh to visit these fenced off areas and explain to farmers the reason for stopping the compensation scheme.
He said this showed the anti-farmer face of the UPA Government.
Veer Singh Lopoke appealed to the people of these areas to vote for Jaitley, and predicted that the latter would hold an important portfolio in the forthcoming NDA Government after the elections.
Parminder Singh, Rana Lopoke and D. P.  Chandan also attended these rallies.  By Ravinder Singh Robin (ANI)
Technology Sector