James Cameron's project reveals vibrant ocean life
Submitted by Supreet Sharma on Sun, 02/24/2013 - 13:33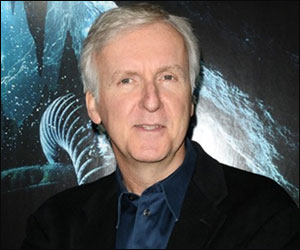 Washington, Feb 24 : Veteran moviemaker James Cameron's Deepsea Challenge project has uncovered a rich, vibrant life thriving in ocean depths, ranging from gigantic amoebas and crustaceans to swimming sea cucumbers.
The first scientific analysis of data, garnered during the record solo dive to the 11 km deep Challenger Deep in the Pacific Ocean's Mariana Trench, on March 26 last year, has yielded new insights about creatures that inhabit the cold, dark, and highly pressurized habitats of the world's deepest points and their vastly unexplored ecosystems.
Natalya Gallo of Scripps Institution of Oceanography at University of California, San Diego, with biological oceanographer Lisa Levin's group, analyzed 25 hours of video captured during Cameron's historic dive, as well as separate dives to the New Britain Trench and Ulithi, also in the Pacific Ocean.
"The Deepsea Challenge expedition (supported by National Geographic and Rolex), made possible the discovery of the deepest examples of gigantism known thus far," said Doug Bartlett, Scripps marine microbiologist and chief scientist of the expedition, according to a Scripps statement.
The footage was taken from five cameras equipped on the Deepsea Challenge submersible that Cameron piloted to the Challenger Deep.
Additional footage came from specialized "lander" deep ocean vehicles developed in collaboration with Scripps engineer Kevin Hardy that captured samples at various depths.
Early results of Gallo's analysis reveal a vibrant mix of organisms, different in each trench site.
The Challenger Deep featured fields of giant single-cell amoebas called "xenophyophores," sea cucumbers, and enormous shrimp-like crustaceans called amphipods.
The New Britain Trench featured hundreds of stunning stalked anemones growing on pillow lavas at the bottom of the trench, as well as a shallower seafloor community dominated by spoon worms, burrowing animals that create a rosette around them by licking organic matter off the surrounding sediment with a tongue-like proboscis.
Different species of sea cucumbers were present even in the great depths of the Challenger Deep but appear to have adapted to these depths by decreasing in size, not swimming, and feeding by orienting themselves with the currents.
"These data add valued information to our limited understanding of deep-sea and trench biology," said Gallo.
"Only a small fraction of the deep seafloor has been fully explored, so this expedition allows us to better understand these unique deep-sea ecosystems."
Gallo will present preliminary findings at the 2013 Aquatic Sciences Meeting of the Association for the Sciences of Limnology and Oceanography in New Orleans. (IANS)