Jamnagar Fort museum attracting many tourists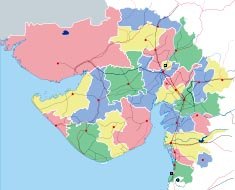 Jamnagar, Dec 25 : A museum built in the middle of the Ranmal Lake in Lakhota Fort is attracting scores of visitors to Jamnagar.
The Lakhota Museum displays a collection of old English and Portuguese firearms, weapons, sculptures, and artefacts that date back to the early 9th century A. D.
"A lot of big cannons belonging to the British era are displayed here. Some of these date back 600 years. All these cannons reached this place from Portugal by sea," said R R Goswami, curator of the Lakhota Museum.
The museum''s walls have a number of frescoes that depict the exploits of the area''s rulers.
"There are some beautiful sculptures here that belong to the 18th century. Weapons are also displayed here," said Daksha Solanki, a visitor.
Some visitors feel that the youth should visit this museum as it displays distinctive facets of India''s rich heritage.
"I believe that the coming generation that is studying in schools and college should visit this museum and see our rich heritage," said Devang Solanki, a visitor.
A stone bridge links the palace to the town of Jamnagar. (ANI)