Joergensen retains Copenhagen Masters title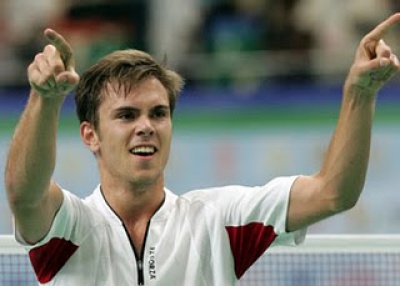 Copenhagen, Dec 29 : Denmark's Jan Oe Joergensen beat Hu Yun of Hong Kong 21-12, 21-11 to retain the men's singles title at the Copenhagen Masters badminton tournament here.
The 24-year old Dane played his semi-final Thursday night while Hu had been through a hard-fought three sets match against Joergensen's compatriot Viktor Axelsen earlier Friday to reach the final, reports Xinhua.
That strain had clearly taken its toll on the 31-year-old Hu, who was powerless to stop Joergensen having his way to another Copenhagen Masters crown.
Joergensen came to the tournament as the title favourite as he beat Peter Gade in last year's final. The World No. 11 continued his development and looked comfortable and in complete control of the game.
At the start both players made errors and the score was tied on 7-7.
Leading by 11-9, Joergensen was urged by coach Lars Uhre to attack the forehand of Hu as that was supposedly his weaker side. Joergensen cruised to 17-11 as Hu was punished several times for laying the shuttle too high.
The second game started well for the local favourite as he drove his opponent around the court with a mixed arsenal of shots, taking a 8-0 lead before Hu was allowed his first point of the game.
Joergensen was extremely quick to get on the offensive and put maximum pressure on Hu.
As play went on, the superiority of Joergensen became more visible and the Dane never looked back as he won the second game 21-11.
Joergensen has now won the Copenhagen Masters title a total of three times.
In the mixed doubles final, Danish pair Christinna Pedersen and Joakim Fischer Nielsen made it three Copenhagen Masters titles in a row when they defeated Thai duo Sudket Prapakamol and Saralee Thoungthongkam 21-19, 21-17.
In men's doubles, the odds changed dramatically when Mathias Boe was forced to pull out of the final due to flu. Carsten Mogensen had to call upon Mads Pieler Kolding as his new partner to face another Danish pair, Mads Conrad-Petersen and Rasmus Bonde.
Conrad-Petersen and Bonde capitalised on the lack of understanding between their opponents and won the first game 21-19.
However, Mogensen and Mads Kolding gradually found common chemistry and rallied to win the second and third games 21-16, 23-21, clinching the title. (IANS)