K Sera Sera posts two-fold growth in net profit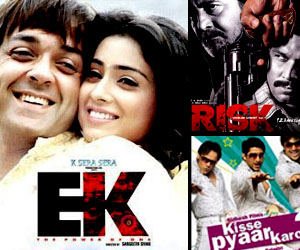 K Sera Sera Productions, leading film and television software production house, has informed that it has clocked two-fold growth in its consolidated net profit for the quarter ended September 30, 2009.
The sources informed that the company has posted a net profit of Rs 39.72 crore in the quarter under review.
In addition, total income of the company has also surged to Rs 112.34 crore during the said quarter.
During the similar period previous year, company's total income figure stood at Rs 44.88 crore.
On a standalone basis, the company has registered a net loss of Rs 0.52 crore in the reporting quarter, while it had posted a net loss of Rs 2.56 crore in the same quarter corresponding fiscal.
Stock of K Sera Sera Productions Ltd ended the day in green at Rs 22, up 4.95% on Bombay Stock Exchange (BSE). The total volume of shared traded on BSE was 1,0 lakh.