Kamath praises new FM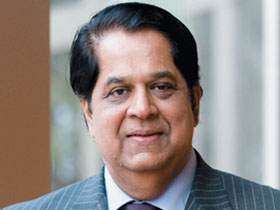 K. V. Kamath, who is ICICI Bank non-executive chairman as well as the chairman of IT major Infosys, has praised the new finance minister P. Chidambaram.
He said that the Finance ministry is in good hands as Prime Minister Manmohan Singh, who took charge of the ministry after the resignation of then finance minister Pranab Mukherjee for Presidential elections, is set to appoint Chidambaram as the new finance minister of the country.
"The industry needs clarity and policy stability, not concessions. Lack of reforms are not holding back growth. We need to focus on removing bottlenecks," said Mr. Kamath.
Home minister P Chidambaram is most likely to become the union finance minister of India before the monsoon session of the parliament. It was strongly believed after the resignation of Pranab Mukherjee that he will retake the responsibility of the ministry at a time when the Indian economy is facing a slowdown.
Chidambaram has already served as the union finance minister during the first tenure of the UPA government. He is well known for his knowledge on economic matters and there is a general belief that his teaming up with Dr. Singh will help the country reverse a slowdown and put the economy back on the track of high growth rate.
Dr. Singh has already pushed the finance ministry into action to calm investors, who have expressed serious concerns over the regulatory changes in the country.