KEC International receives orders worth Rs 1,511 crore
Submitted by Rajvir Khanna on Thu, 01/03/2013 - 21:00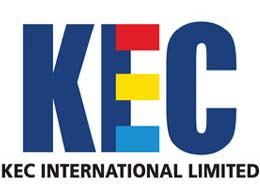 An RPG group company, KEC International has announced that it has bagged orders worth a whooping Rs 1,511 crore in various sectors in different countries around the world.
The company said that it has received orders for transmission, power systems and cable businesses from parties in various countries including Oman, Nepal and some in Latin America. The company received two orders from Power Grid Corporation of India for supply and erection of high voltage transmission lines in Chhattisgarh besides a 43 crore orders for supply of power and telecom cables, it said in a statement.
KEC International received a Rs 602 crore order for design, supply and establishment of 400 kV transmission line from Oman Electricity Transmission Company and a Rs 131 crore order for supply and erection of transmission line and substation on turnkey basis in Nepal. KEC International's unit, SAE Towers also won various supply of lattice towers and poles in Brazil, Mexico and United States.
The shares of the company have increased by 8.22 per cent since 1 January 2013 from Rs 67.45. The shares have hit a high of Rs 73.85 and a low of Rs 71.90 so far.