Kejriwal mocks Modi, challenges him to contest elections from one seat
Submitted by Hardeep Sidhu on Fri, 03/28/2014 - 22:07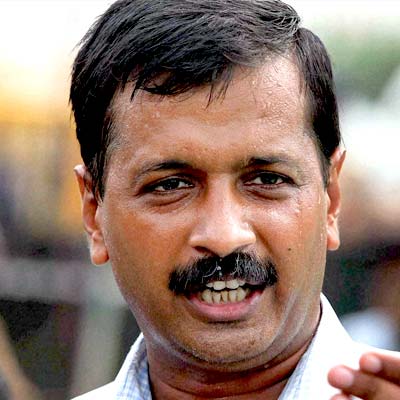 Badli (Haryana), Mar 28 : Aam Aadmi Party (AAP) chief, Arvind Kejriwal, on Friday took a jibe at Bharatiya Janata Party (BJP) prime ministerial candidate Narendra Modi, challenging him to contest the electoral battle from Varanasi only, during his road show in Haryana.
Kejriwal kickstarted his road show in Haryana's Badli area to garner voters' support ahead of the elections.
Slamming Modi, Kejriwal said there was no Modi wave and if he had the power he should have contested elections from one seat, that is, temple town of Varanasi.
"There is no Modi wave in Varanasi also and if there was any wave then why would Modi fight from two seats. Why is he fighting from two seats? He is scared and if he has power then he should come to Varanasi and fight the elections," Kejriwal said.
Lashing out at the Congress party and the BJP, Kejriwal urgedvoters to exercise their franchise in his favour.
" Aam Aadmi Party has been formed by god. This time everyone should unite and defeat the Congress and the BJP and vote for an honest party," Kejriwal added.
However, India's fragmented political landscape in parliamentary polls makes results hard to predict, meaning a BJP victory is by no means assured.
"What is the difference between Congress and Bharatiya Janata Party (BJP)? You should not get into all this. Many Congress leaders are joining BJP," he added.
The AAP plans to contest at least 350 of the 543 seats at stake in the Lok Sabha (lower house of the parliament) and has promised to field strong candidates against a string of high-ranking politicians Kejriwal described as corrupt. (ANI)
Technology Sector