Kevin Andrews urges Oz Govt to appeal in High Court in Haneef's case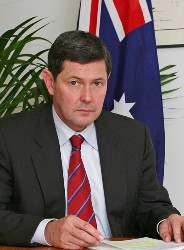 Melbourne, Dec 21: Former Australian Immigration Minister Kevin Andrews has urged the federal government to appeal against a court verdict favouring the return of Indian born doctor Mohamed Haneef.
Andrews, now an opposition backbencher, defended his decision on July 16 to revoke Haneef's visa on grounds of character.
He said that he had acted on two grounds in coming to the decision.
Those were the brief of evidence provided to him by the Australian Federal Police through the immigration department, and the Federal Court's interpretation of the visa character test by Justice Arthur Emmett in the 2001 Chan case.
In that case, Justice Emmett found that neither a person's knowledge of an associate's criminality or guilty participation was necessary for a person to fail the character test.
Andrews said that today's Federal Court decision provided a new interpretation of the character test which every visa applicant must meet in order to remain in Australia.
"As the decision involves an arguable interpretation of what Parliament intended about a matter that goes to the national interest, I urge Evans to appeal the case to the High Court, " he said.
The full bench of the Federal Court today dismissed an appeal by the Australian Government against Justice Jeffrey Spender's decision in August to reinstate Dr Haneef's work visa.
The decision paves the way for Dr Haneef to return to Australia, where he had been working as a hospital registrar, The Australian reported.
Andrews was widely criticised for what many saw as interference in the Haneef case for political gain.
He controversially revoked Dr Haneef's visa just hours after a Brisbane magistrate released the former Gold Coast Hospital registrar on bail, having described the prosecution case as weak. (ANI)