Kiwi lands 1.2m barracouta using his cellphone as bait!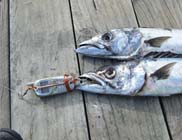 Wellington, May 28 : When Les Holland's cellphone died last month, rather than getting it sold or exchanged for a new one, this New Zealander decided to give the 'technological blessing' a new lease on life - in the form of a 'fishing lure'!
What began as a practical joke soon got transformed into amazement for the life-long recreational fisherman, when Holland hauled in a 1.2m barracouta about 150m off the Boulder Bank in his 9.75m launch Awatere.
"My cellphone died and I thought I'd make a thing to catch a kingfish on it and I towed it behind my boat - it was floating along the top so I had to put a sinker behind the swivel - and then I caught the barracouta on the bloody thing," Stuff. co. nz quoted him, as saying.
Holland said he had no idea what attracted the fish to his makeshift lure, but hoped next time he used it, it would help pull in something a little more tasty.
Holland has a new phone now, but is not going to be dropping that one off his boat any time soon.
It is a flip-top model, he said, and "would wobble like hell through the water". (ANI)