Klaus calls for ratification process for Lisbon deal with Ireland
Submitted by Sahil Nagpal on Thu, 06/18/2009 - 03:10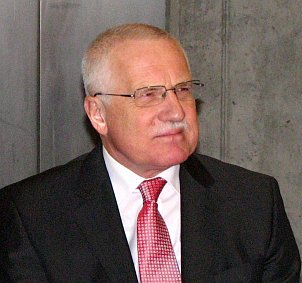 Prague - Czech President Vaclav Klaus, an opponent of the European Union's reform Lisbon Treaty, said that the bloc's deal with Ireland that would enable a new
referendum on the stalled pact should be submitted for ratification by the national parliament.
The treaty, which is designed to boost the EU's global standing through reforming its institutions, has been stalled since Irish voters rejected in a referendum a year ago.
The 27-member bloc plans to strike a deal with Ireland on conditions for a new vote at a two-day summit in Brussels starting Thursday.
In a Tuesday letter to Prime Minister Jan Fischer, which was released Wednesday on the president's personal website, Klaus said that the guarantees the EU plans to
give to Ireland "require (Czech) Parliament's approval."
Under Czech law, ratification of an international treaty by parliament also requires a presidential signature.
Fischer, who is to head the EU summit, replied that the EU's deal with Ireland does not require such approval and can be sealed only by the government.
The EU hopes that the new Irish referendum would revive the pact, which must be approved by all EU members to become valid.
EU leaders agreed to give Dublin guarantees that the Lisbon Treaty will not breach Ireland's neutrality or force it to change its tax and family laws, as Irish voters had
feared.
But debate has raged over how to pass the guarantees into law.
Ireland wants EU states to ratify them as an attachment to a future treaty. Other EU members, including the Czech Republic which presides over the bloc until June 30, fear
that this would force them to re-open debate on the deeply unpopular treaty among their own citizens.
Klaus, who rejects the treaty as a threat to his country's sovereignty and a bad deal for small EU countries, has so far refused to sign the pact, which cleared Czech
parliament. He hinted that he will do so only after Ireland reverses its rejection.
Aside from the Czech Republic and Ireland, Germany and Poland are also yet to complete ratification.(dpa)