L'Oréal to buyback 8% shares From Nestlé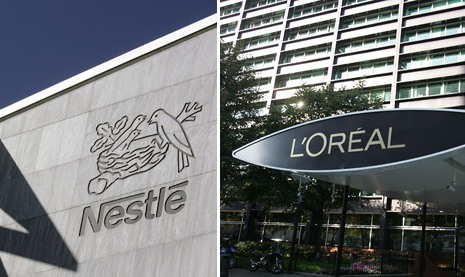 World's largest maker of cosmetics, L'Oréal has said that it is planning to buy back back 8 percent of its shares from Nestlé.
L'Oréal, which is based in Paris, will spend about $8.2 billion to acquire 8 percent of its shares from the Swiss food giant in a major complex transaction that will begin the conclusion of a logn tern relationship between the two major firms. Nestlé, based in Vevey, Switzerland holds almost 30 percent of L'Oréal since 1974.
Nestlé works with the Bettencourt-Meyers family that founded the company that owns brands including Lancome, the Body Shop and Vichy. The family had sold a stake in the company to the Swiss firm amid fears that L'Oréal might be nationalised by the government of France. The deal was expected as the agreement stated that the two firms had until April to offer the other any stake they intended to sell in the market.
Nestlé is now focusing on expanding its health and nutrition businesses and is looking to sell noncore businesses. The Swiss firm has profited from its investment in the cosmetics major. Nestlé said on Tuesday it would use part of the proceeds to carry out a share buyback and might also acquire other firms in the sector.