Lifter Monika Devi Claims No Wrongdoing
Submitted by Ashok Rao on Sat, 03/28/2009 - 18:40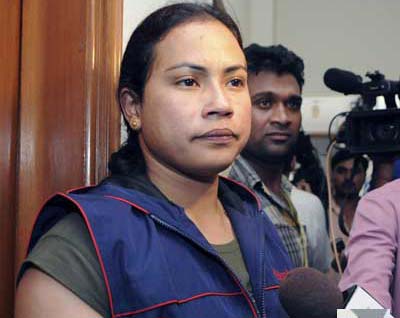 New Delhi: Sad and surprising but true.
The 'B' sample test of Indian weightlifter Monika Devi has returned positive for a banned substance in a WADA-accredited laboratory in Tokyo.
She may now be banned for two years.
Speaking on this, a top source said, "The decision of the Sports Authority of India to stop her from going to Beijing has turned out to be correct. Nobody is talking about it now because a case is pending in Delhi High Court."
It can be recalled that on the recommendation of the S Krishnamurthy Commission report, the B sample of the weightlifter was sent to Tokyo by the Union Sports Ministry. Monika was barred from participating in Beijing Olympics last year after her A sample was found positive.
It is believed that the IWF has already obtained a letter from the National Dope Testing Laboratory in this regard.
However, Monika insisted that she "did absolutely nothing wrong" at the doping test which got her banned. She alleged that here is a huge conspiracy to end her sporting career prematurely. Apart from this, the 28 year lifter from Manipur had termed the charges against her as 'the great Indian dope trick'.
The repeated doping breaches by Indian weightlifters have led the country to be banned twice from international contests since the 2004 Olympics in Athens.