Lokpal Bill amendments officially released
Submitted by Mohan Kumar Shr... on Fri, 02/01/2013 - 23:36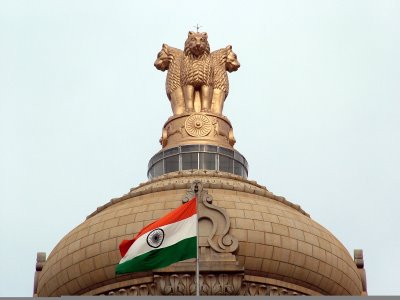 lNew Delhi, Jan 1 : The Central Government on Friday came out with the official amendments approved by the Union Cabinet in the proposed Lokpal and Lokayuktas Bill- 2011.
Salient features of amendments to the bill approved by the cabinet on January 31 are as below:
- a) Collegium for Selection of Lokpal: The Bill provides for selection of members of Lokpal by a Selection Committee comprising the Prime Minister, Speaker (Lok Sabha), Leader of Opposition (Rajya Sabha), Chief Justice of India or a Supreme Court judge nominated by CJI and an eminent jurist nominated by the President.
The Select Committee has recommended that the fifth member of the Selection Committee (i. e., eminent jurist) may be nominated by the President on the basis of recommendation of the first four members of the Selection Committee. b) Jurisdiction over bodies receiving donations from public: The Select Committee has recommended exclusion of bodies and institutions receiving donations from the public from the purview of Lokpal.
Government has decided to exempt only such bodies or authorities established, constituted or appointed by or under any Central or State or Provincial Act providing for administration of public religious or charitable trusts or endowments or societies for religious or charitable purposes registered under the societies Registration Act.
Other non-governmental bodies receiving donation from the public would thus remain within the purview of Lokpal. c) Power to order investigation straight away: Select Committee has recommended that the Lokpal should be given power to order an investigation straightaway (without first ordering a preliminary inquiry) in case Lokpal finds that a prima facie case exists.
Government has accepted this recommendation subject to the modification that the Lokpal should, before coming to a conclusion that there exists a prima facie case for entrusting the matter for investigation, call for the explanation of the public servant and then decide whether there exists a prima facie case for ordering investigation. d) Opportunity of hearing to public servant: The Select Committee has recommended that the seeking of comments from the public servant during the preliminary inquiry by the investigating agency should not be mandatory [clause 20 (2)]. Committee has also recommended that the opportunity of hearing by Lokpal before ordering investigation may be dispensed with [clause 20 (3)].
The affording of an opportunity to the public servant and to the government/competent authority at the preliminary inquiry stage and before ordering formal investigation would help clear doubts in several cases and would substantially reduce the number of cases going for regular investigation.
Therefore, Government has decided not to accept this recommendation of the Select Committee and move an official amendment for the purpose. e) Power to order prosecution of public servants: The Select Committee has recommended that the power to grant sanction for prosecution of public servants could be shifted to the Lokpal in place of the Government. The Select Committee has also recommended that Lokpal may be required to seek comments of the competent authority and the public servant before taking such decision.
Government has decided to accept this recommendation of the Select Committee. f) Powers of supervision over CBI: The Bill confers powers of superintendence on the Lokpal over the Delhi Special Police Establishment (CBI) in respect of matters referred by the Lokpal for inquiry/investigation. g) Appointment of Director, CBI: A high-powered Committee chaired by the Prime Minister will recommend selection of the Director, CBI. h) Attachment/confiscation of ill-gotten property: The Bill contains provisions for attachment/confiscation of property acquired by corrupt means, even while prosecution is pending. i) Strengthening of CBI: The Select Committee has recommended following amendments in the Bill for strengthening the CBI: - I) Setting up of a Directorate of prosecution headed by a Director of Prosecution under the overall control of Director, CBI II) The appointment of the Director of Prosecution on the recommendation of the Central Vigilance Commission III) Maintenance of a panel of advocates by CBI, other than the government advocates, with the consent of the Lokpal for handling Lokpal referred cases IV) Provision of adequate funds to CBI for investigating cases referred by Lokpal V) Transfer of officers of CBI investigating cases referred by Lokpal with the approval of Lokpal. Government has decided to accept all these recommendations except the last one, i. e., seeking approval of Lokpal for transfer of officers of CBI investigating cases referred by the Lokpal, which is proposed not to be accepted, as it would affect the smooth functioning of the CBI. j) Enhancement of punishments under Prevention of Corruption Act: The Bill proposes to enhance punishments under Prevention of Corruption Act:
(a) Maximum punishment from 7 years to 10 years(b) Minimum punishment from 6 months to 2 years. (ANI)
Technology Sector