Lt-Gen. KS Brar describes recent attack as "hate crime"
Submitted by Ashok Rao on Wed, 10/03/2012 - 21:45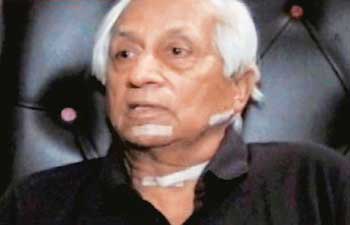 Lt-Gen. (retd) K. S. Brar, who was recently attacked by four bearded tough looking men in London, has described the attack as a "hate crime."
Seventy-eight-year-old Mr. Brar was attacked by pro-Khalistani elements on Tuesday night, when he and his wife Meena were returning from Piccadilly Circus in London.
Speaking to Mail Today in London, he said, "It is a hate crime, my inner strength saved me. Otherwise I wouldn't have survived to talk to you. The intent was clearly to assassinate me."
He explained the incident, saying he and his wife were at a passageway between Oxford Street and Branson Street, where suddenly four Sikhs wearing clad in black clothes pounced at him. While one of them threw his wife to the side, other three attacked him with 'kirpan' or a knife. One of them slashed his neck, but, being an army man, he fough back, and managed to defend himself. Some people from the vicinity rushed to the place to help the couple. The London Police and the ambulance arrived soon and took him to a hospital, where doctors operated on him, and he soon came out of the general anaesthesia.
It may be noted here that Mr. Brar had led the Indian Army in Operation Bluestar in the year of 1984. He recently also spoken against the construction of a martyrs' memorial in the Golden Temple.
Mr. Brar warned that the Punjab government's attitude was only encouraging Sikh extremism. He also urged the Centre to step in before it gets too late.