Ludhiana's Jasbir Singh Tatla, the first turbaned Sikh in Canadian Air Force
Submitted by Sahil Nagpal on Mon, 08/25/2008 - 23:58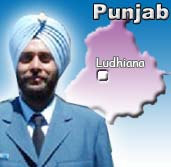 Dhothar (Ludhiana), Aug. 25 : Residents in Ludhiana's Dhothar Village are rejoicing in the achievement of one of their youngsters, who has done all of them proud by becoming the first ever turbaned Sikh commissioned to join the Royal Canadian Air Force.
Thirty five-year-old Jasbir Singh Tatla, a native of Ludhiana's Dhothar Village, arrived in Canada in 1999 after completing his post graduation in engineering from Punjab Agriculture University. He did his Bachelors of Engineering from G. N. E. Engineering College, Ludhiana.
In Canada, Tatla did one-year Architectural Drafting certification from Kwantlen University College in Surrey and worked in different fields, including as an Engineering Technician in PMC Sierra in Burnaby.
Jasbir took up a technical job but had to give up following the infamous post 9\11 anti-turban hysteria. In 2007, due to his dedication and potential, he rose to become the director of Blacktop and Checker Cabs Ltd. Company in Vancouver.
Later, he cracked the entrance examination for the Air Force, but joining the force was equally challenging. Extensive security checks and background information from India took four years for the process to complete.
Even after joining the training academy, he was found 30 pounds overweight than desired by the candidates. But he soon overcame this hurdle too.
But finally his endeavour paid off and he became the first turbaned Sikh Canadian air force officer. He was commissioned as a Lieutenant of Air Force on July 12 at graduation ceremony.
Being the first turbaned officer, he was also given a choice to select his headgear, which would be carried forward by the other officers who might be commissioned in future
As the news about Jasbir Singh's success became known, everyone started sending greetings to his native home here. And, there were celebrations and sense of pride all around the village.
"Jasbir singh is the first Sikh to be commissioned in the Canadian Air Force. We are very happy as he has made us proud as well as making the country, Punjab state and this village proud of him. We all are celebrating it and have distributed sweets all over the village and did Bhangra," said Bhupinder Singh, uncle of Jasbir Singh.
"We celebrated in the village and distributed sweets. Since the day we heard of this news, there has been numerous greeting coming from everywhere on our youngster's achievement. I wish that the almighty gives him more such opportunities. All the villagers are happy and have congratulated us," said Jasbir Kaur, aunt of Jasbir Singh
Tatla's has a family background of individuals related to the armed forces. His great-grandfather took part in the First World War, his grandfather took part in the Burma War, and his father, Gurdarshan Singh, retired as an Honorary Flying Officer. An uncle of his, Sukhdev Singh, was a brigadier in the Indian Army.
Jasbir Singh has been presently posted as an airfield engineer in Vancouver. (ANI)