'Make In India' initiative a major platform to promote innovation: Harsh Vardhan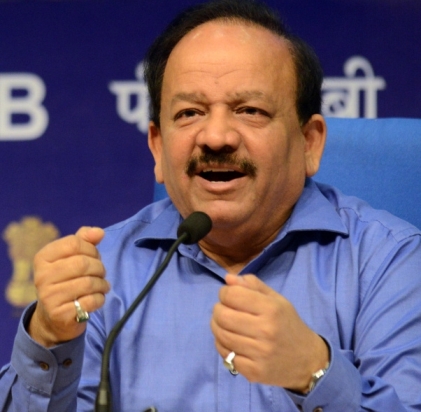 Gandhinagar, Jan 7 : Union Science and Technology Minister Dr. Harsh Vardhan today asserted that the research and innovation environment in India is rapidly changing, with the government actively supporting scientists with various incentive schemes.
Speaking at an innovatively packaged 'Bharat Ko Maano' session at the Youth Pravasi Bharatiya Divas in Gandhinagar, Dr. Harsh Vardhan said Prime Minister Narendra Modi is particularly keen on institutionalizing linkages between resident Indians and the diaspora to promote exchange of ideas.
He said that the "Make In India" initiative will provide a major platform to promote innovation and added that the government has identified agricultural research, biotechnology, nano-sciences, affordable health care, clean energy and aerospace, as key areas for promoting research and development.
Ayurgenomics and bio-entrepreneurship are also among the thrust areas, he stated further.
"Indians world wide have been in the forefront of innovation. One third of NASA scientists are Indians, all they require is an enabling environment to work" the minister added.
Quoting a report published by a leading American society, Dr. Harsh Vardhan said innovation and research was slowing down in the developed world, while witnessing a spurt in developing countries.
He said 17 Indian companies that participated in the World Economic Forum Summit in Davos were promoted by first generation entrepreneurs, mostly by technocrats.
Harsh Vardhan urged the Indian diaspora to actively consider pursuing research and innovation in India.
"Come back and innovate in India. Have faith in our capabilities and ability to support" he said.
Former ISRO chairman K Radhakrishnan spoke about India's space achievements.
In his address he said though India ranked 6th in the world in space programme, it ranked No. 1 in terms of space application and finding cost effective solutions.
Young achiever Professor of Mathematics in Princeton University, USA, Dr. Manjul Bhargava, spoke about interesting methods of teaching Mathematics using the rhymes and rhythms of Sanskrit shlokas.
'Bharat Ko Maano' session that focused on innovations and contributions of India in the fields of science and technology, followed the 'Bharat ko Jaano' session in the morning, that explored Indian diaspora youth linkage with traditions, culture and philosophy. (ANI)