Malaysia's former premier Mahathir quits ruling party
Submitted by Mohit Joshi on Mon, 05/19/2008 - 21:06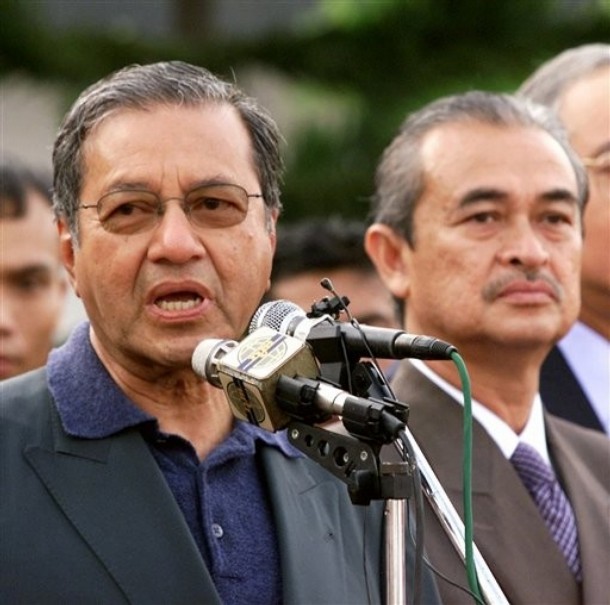 Kuala Lumpur  - Malaysia's former prime minister Mahathir Mohamad announced Monday that he will quit the ruling party he helmed for 22 years.
Mahathir's shocking announcement that he would quit the United Malay National Organisation (UMNO) came during a talk in the northern Kedah state.
"I am quitting UMNO today," Mahathir told some 1,000 party members during his speech.
The former premier, who has been a member of UMNO since its inception in 1946, has been engaged in a very public spat with his successor Abdullah Ahmad Badawi following the ruling government's great losses during the March 8 general elections.
Mahathir, 83, has repeatedly demanded the prime minister's resignation and said Abdullah would eventually bring about UMNO's political destruction.
The ruling UMNO-led National Front coalition failed to secure a two-thirds majority in parliament and lost a total of five states to the opposition, recording its worst election performance since the country's independence more than 50 years ago.
Mahathir told UMNO members present at Monday's function to follow him in quitting as a sign of dissatisfaction with Abdullah's leadership.
His announcement prompted at least one senior party member to follow suit, with a party insider saying many others would be expected to take the influential former premier's lead in coming days.
Abdullah told newsmen later that he was "surprised" by Mahathir's decision to leave the party, but stopped short of making any criticism about his former mentor.
The beleaguered premier reiterated his refusal to step down, saying he would stay on to "fight for the party."
"Perhaps some other members might leave too, but this won't entirely affect the party. It all depends on whether the rest want to stay on and continue to fight for the party too," he was quoted as saying by the Star daily.
Analysts say Mahathir's move is an attempt to garner enough support from UMNO members - many of whom remain fiercely loyal to the former leader - to force Abdullah out of leadership, adding that any future cooperation with the opposition, led by his nemesis and former protege Anwar Ibrahim, was unlikely.
"There are no plans to invite Mahathir into the opposition coalition," said Lim Kit Siang, chairman of the opposition Democratic Action Party, which is part of a three-party opposition coalition.
"This announcement is likely part of a larger game plan by Mahathir to escalate pressure on Abdullah to quit.
"This move is unexpected, but we're not going to make any assumptions for now. We are going to wait and see what's next," Lim told Deutsche Presse-Agentur dpa.
Both Mahathir and Abdullah were unable to be reached for further comment.
Mahathir, who was one of Asia's longest-serving elected leaders, selected Abdullah to succeed him in October 2003 but spats between the two began emerging just a year later.
He has admitted to being responsible for bringing about rifts within UMNO but has defended his outspoken criticism of Abdullah by saying they were fuelled by a desire to protect the party. (dpa)