Mamata Banerjee urges President, PM to intervene in Singur land row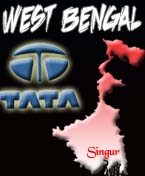 New Delhi, Oct 14 : Trinamool Congress leader Mamata Banerjee today met President Pratibha Patil and Prime Minister Dr. Manmohan Singh seeking intervention in implementation of agreement reached with the West Bengal Government over Nano car plant land row in September.
Banerjee met the duo to put forward her demand of implementing the agreement and return of land to the farmers of Singur who did not receive compensation.
She said, the government went back on its promise to return land to the farmers as promised by it in the agreement, and appealed to both the President and Prime Minister urging their intervention in resolving the issue.
"We requested them to see that the agreement is implemented in a proper manner. Let 600 acres go to the industry and 400 acres go to the farmers. This is the solution," said Banerjee, adding, "If a government does an agreement and says we do not accept it, then there will be no value for constitutional obligation, the agreement and the constitutional tradition as well."
Banerjee said Dr. Singh assured her that he would look into her demand within his constitutional obligations.
The controversy over the Tata factory in has hurt the state''s image as an investment destination.
The land row caused by violent protests led by Trinamool Congress over the acquisition of farmland by the West Bengal Government had forced Tata Motors to move out of the state and set up its ultra low-cost Nano car project in Gujarat. (ANI)