Manmohan should seek God's , not Sonia's mercy: Modi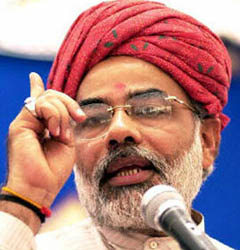 Amreli (Gujarat), Dec. 8: Gujarat Chief Minister Narendra Modi today said that Prime Minister Manmohan Singh should seek God's mercy rather than that of Congress party president Sonia Gandhi.
Addressing a public meeting near Amreli District, Modi's remarks were a rejoinder to Manmohan Singh's statement of a fear psychosis prevailing in Gujarat under the governance of the BJP.
While speaking to reporters after addressing an election rally in Surat, Singh had said that it was unfortunate that some people have commented on the Sohrabuddin fake encounter case without realising that it could affect the matter pending before the court.
Modi said: ''My advice to Prime Minister is that if he is also at the mercy of the God instead of Sonia Gandhi, it will be good for India. ''
On Friday, in an indirect reference to the BJP, Dr Singh had said: "Somebody is now trying to paint the Congress party in wrong colours, " adding that "it is a measure of the fear and the uncertain future that faces them. "
"This is a sign of weakness and not a sign of strength, " Dr Singh added.
He emphasised that "it is not a good sign for any political party to divide our country on communal lines. "
Dr. Singh also rejected Modi's allegation that Gujarat is being discriminated against by the UPA government at the Centre.
"Gujarat is the beneficiary of the accelerated process of development that we have launched, " he said, adding "We want to change the face of Gujarat villages, make them models for developments. "
"On the education front, Gujarat is still lagging behind. One-third of the people are still uneducated, apart from villages, even urban centres need to develop, " he said.
He credited the Central government for the successful completion of the Sardar Sarovar Project.
Dr. Singh is expected to visit the state for a second round of campaign on December 11.
Over 36 million voters will elect the 182-member Assembly in Gujarat in a two-phased election, as the term of the State's Legislative Assembly is due to expire on December 26.
The first phase of elections in Gujarat will be held on December 11 and second phase on December 16. The counting of votes will take place on December 23.
The BJP managed to win 127 seats, while the Congress party was able to win only 51 seats in the 2002 Gujarat Assembly polls. The Janata Dal (United) and independents won two seats each. (ANI)