Manmohan Singh and I share the same values: Bush
Submitted by Sarthak Gupta on Sat, 10/31/2009 - 15:15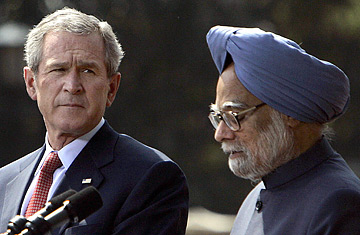 "We are involved in an ideological struggle against people who murder the innocent to advance a point of view," said former US president George W Bush, in an exclusive interview to Hindustan Times. "I believe India is an important antidote to that."
Bush, in the interview, revealed that his enthusiasm for the country remained undimmed. "India is a great example of a country where religious freedom promotes a peaceful society," he said.
Indians are "incredibly bright" and endowed with great entrepreneurial ability. For these and other reasons, said Bush, he pursued the nuclear deal with India with such vigour, and expanded the Group of Eight to include India.
"The Indo-US civilian nuclear deal liberated us from the bonds of the past once and for all," he said. "The deal basically said: 'We recognise India in a different light.'"
In his view, the fact that it would help India get access to nuclear power was important but secondary.
Bush even ascribed to India an economic clout that many Indians would not claim. "I expanded the Group of Eight and made it the Group of 20 to bring India to the table," he said.
Why? "You cannot have a meaningful discussion about the future of the world and how to deal with the financial meltdown without India," he replied.
When the present recession ends, Bush speculated, historians will say it was because countries like India led the way out. "No one would have said that 20 years ago," he said.
He spoke glowingly of the Indian-American community.
"They have made lasting contributions to economic growth because of their creativity," Bush said.
"India sets a really good example for countries which wonder if a multi-religious society can be at peace," he added. He noted that India had a large Muslim population living in harmony with people of another religion.
Bush said he bonded very well with PM Manmohan Singh, who appealed to him ideologically. "He would be very vocal about India's interests," said Bush. "At the same time, we would be explicit about our shared values."
In a convivial mood, about to leave to meet his "old pal" Singh, Bush also spoke of the book he is working on about his presidency. "It will be a book about the environment in which I had to make some tough calls," he said. "And then it will leave it to the reader to make up his own mind as to what he would have done."
It's as close as he gets to the controversies that surround his years in the Oval Office. "It takes a while for history to be true," he said.
But his India policy won't need post facto certification. The special Indo-US relationship he built will be continued by all future US presidents, he believed, and already saw President Barack Obama doing so. "I believe the world is better off when Indians and Americans work closely together," he said.