Martyrdom Day being observed at Nankana Sahib near Lahore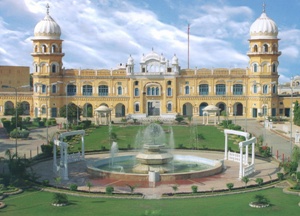 Amritsar, Feb 20 : Martyrdom Day, which is observed in the memory of those who died while fighting to protect the sanctity of the Sikh Gurdwaras before the partition of the subcontinent, is being observed at Nanakana Sahib near Lahore in Pakistan from Tuesday to Thursday.
This is as per the original Nanakshahi Calendar of 2003.
The American Gurdwara Parbandhak Committee is participating in the program being organized by Pakistan Sikh Gurdwara Parbandhak Committee (PSGPC).
AGPC Coordinator Dr. Pritpal Singh while talking to ANI over phone said that the PSGPC has made elaborate arrangements for the ceremony as the Akhand Path has begun.
He said that the bhog of the Akhand Path will be held on February 21.
He said on this occasion the whole panth and they in particular will take a pledge to preserve the sanctity of the religious places of the community and to protect the maryada of gurdwaras. (ANI)