Medium Term Buy Call For IndusInd Bank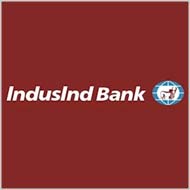 Technical analyst Fayeza Hafiza of Intime Spectrum Securities has maintained 'buy' rating on IndusInd Bank Limited stock to attain a target of Rs 305-310
According to analyst, the said target can be achieved within a period of 3 to 6 months.
The stock of the bank, on April 25, closed at Rs 275.75 on the Bombay Stock Exchange (BSE).
Current EPS & P/E ratio stood at 12.40 and 21.94 respectively.
The share price has seen a 52-week high of Rs 309.30 and a low of Rs 180.30 on BSE.
For its core banking conversion, IndusInd Bank declared that it has picked Finacle core banking solution edition 10 of Infosys Technologies.
IndusInd Bank's MD and CEO, Romesh Sobti stated, "We are confident that Finacle will help significantly scale up our customer base and branch footprint besides improving productivity."
Finacle, built on new generation technology, will permit the banking institution to speed up modernization and stay ahead of growing client demands.
IndusInd Bank believes in driving its biz via technology.
The bank will make noteworthy investment by 2015 within this technology.
Mr. Sobti also said that the IndusInd bank has no plans to lift funds in the coming time.
While talking about the expansion proposals, Mr. Sobti stated that the banking institution intends to swell its division network to 750 from the existing 300 branches.
In addition, the bank aims to double up its client base to 4 million by the next four years (2014).
IndusInd Bank's net profit for Jan-Mar quarter surged 75.34% to Rs 171.76 crore as against Rs 97.96 crore during the same period of 2010.
The bank's net interest income grew by 42.26% to Rs 388 crore, fee income zoomed 47% to Rs 165 crore in the period under review.