Medvedev to meet with security council over Georgia regions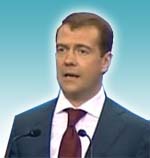 Sochi, Russia - Russian President Dmitry Medvedev convened a security council on Tuesday to review Monday's parliamentary resolution to recognize the independence of Georgia's rebel regions of South Ossetia and Abkhazia.
Russian media quoted a government source saying the meeting would convene at 1.30 pm (1030 GMT) at Medvedev's Black Sea residence in Sochi.
US President George W Bush sharply criticized the resolution while the European Union has called an emergency session over Russia's actions in Georgia as east-west relations slump to their worst state since Cold War years.
Prime Minister Vladimir Putin, who has been more publicly engaged during the conflict than the president, will be present at the discussions, which analysts believed would likely focus on future security relations with the West.
Medvedev on Monday said Russia would survive a break with NATO after Russia and the alliance froze all military cooperation in tit- for-tat measures last week.
"If they break off this cooperation, as a matter fact, it won't mean anything terrible to us," Medvedev said. "We are ready to make any decision, up to and including terminating relations as a whole."
Moscow also announced it would pull back from trade commitments made on the path toward WTO membership.
The decision, made during a cabinet meeting presided over by Putin, seemed to be a move to thwart US threats to drop Russia's WTO bid, in retaliation for Moscow's near two-week occupation of Georgia.
"Our economy, especially in some sectors, is carrying the burden, without seeming to receive any returns from WTO membership - if they exist at all," Putin was quoted by news agency Interfax as saying.
The Kremlin has not yet responded to the parliamentary motion, but Medvedev has promised the rebel leaders in Moscow last week that Russia would support their move toward self-determination.
Bush said if Medvedev accepts the move, it would violate Moscow's commitments and the United Nations resolutions governing the diplomatic effort to resolve the dispute over the two regions.
"I call on Russia's leadership to meet its commitments and not recognize these separatist regions," Bush said in a statement, adding he was "deeply concerned" by the resolution. (dpa)