MindTree Records Flat Volume Growth In Q3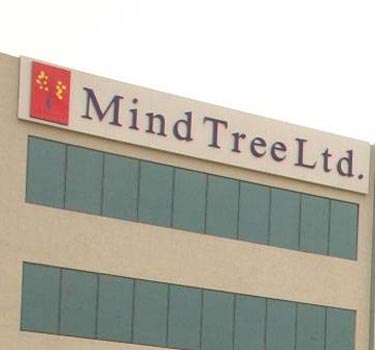 MindTree reported in-line results with 3.5%QoQ USD revenue growth, due to increase in price realisation and flat volume growth as a result of lower working days in the quarter. Forex gain and lower taxes resulted in higher than expected EPS of Rs7.5 (31.5%QoQ growth).
IT Services witness robust strength but PE Services drag Overall revenue increased 0.1%QoQ to Rs3,848mn. IT services grew 7.7%, PE Services declined 1.8%QoQ and NIW declined 5%QoQ. Overall pricing increased 3.5%QoQ, partly due to onetime IP licensing revenue and through pricing negotiations with clients. Overall EBITDA margin was flat at 11.7% including USD3.2mn due to restructuring of wireless business. The restructuring is complete and there will be no further losses.
IMS, Consulting & Package Implementation leads growth IMS grew 42%QoQ, Consulting grew 33.5%QoQ and package implementation grew 7.2%. Application development contributed 45.6%, declined 6.2%QoQ, due to seasonal decline of software product engineering clients. However, application maintenance with a contribution of 21.6% increased 10.1%QoQ.
Europe shines but US muted and BFSI outperforms again Europe grew 11.5%QoQ whereas US declined 1%QoQ. Rest of world grew 17.4%QoQ. BFSI and manufacturing led the performance with 15.5%QoQ and 11.6%QoQ growth. Software Product Engineering declined 5%QoQ.
Strong hiring continues but attrition still high MindTree added 1,021 employees. Attrition rate (LTM) increased 230bpsQoQ to 24.2%. Utilisation rate (incl. trainees) dipped to 69.3%. It added 30 new clients versus 21 in Q2. Top clients have driven growth; top client grew 5%QoQ and top 10 clients 4.2%QoQ. Added three Fortune 500 clients to take the count to 48.
MindTree has shown good traction in IT Services but is still struggling in the R&D Services. The operating margin should improve drastically in Q4 due to lack of restructuring losses in wireless business and gain in business volumes on the back of higher discretionary spending. The stock trades at 11.1x FY12E earnings. We maintain 'HOLD' recommendation with a target price of 560 based on 12x FY12E EPS.