MMRDA's Bandra Kurla Auction Finds No Bidder For Its 2 Plots
Indicating the deceleration in the real estate market, two of the five plots,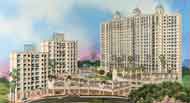 with a reserve price of Rs 3 lakh per sq. metre, put up for auction sale by the Mumbai Metropolitan Region Development Authority (MMRDA) in the Bandra-Kurla Complex (BKC) had absolutely no bidders.
Out of the two, one plot (28,000 sq. m) is intended for commercial use, whereas the other one (6,420 sq. m) is for a residential club house and gymnasium.
During November 2007, the MMRDA had signed the largest ever land agreement in the country when the Wadhwa group bid Rs 5.04 lakh per sq m for a 7,107 sq m commercial plot at BKC.
The third, a 5,951 sq m commercial plot, went to its sole bidder, Jet Airways. Jet bagged the plot for its global headquarters at Rs 826 crore
The prices quoted were even higher than those quoted for the commercial plot.
However, Tuesday's sale of two residential plots involved aggressive bids. They were picked up by Delhi-based Starlight System, a group company of Piramal Sunteck Realty, for Rs 496 crore. Both plots are under an acre in size.
Piramal Sunteck will make use of these residential plots to expand a close residential project, Signature Island.
Kamal Khetan, managing director, Piramal Sunteck said, "We will use these plots as an extension of Signature Island, which commands rates of Rs 45,000 per sq foot (11.1 sq feet = 1 sq metre). We are confident of getting similar rates for the new projects also."
While commenting on Tuesday's auction sale, realty consultant Ambar Maheshwari of DTZ said, "Market sentiment is negative and realty prices have been very high. New supply is also coming on the market and competing with these land auctions. That is the reason many people did not show too much interest in today's auction."
Mr. Maheshwari also said that the real estate market has decelerated over the last six months and tuesday's development reflects that.
Milind Mhaiskar, joint metropolitan commissioner, MMRDA said "Fluctuations in the stock market and negative sentiment have contributed to the lower bids. However, the residential bids set a new record for the Bandra-Kurla area. The commercial plots also received high bids."