Modi government will put India back on track: Jaitley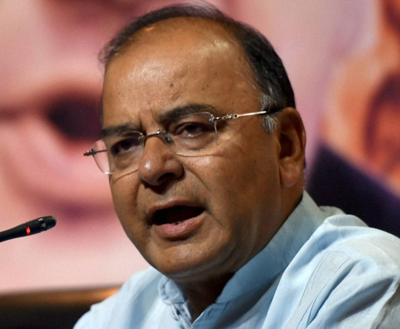 Varanasi, May 6 : Only a stable government led by BJP leader Narendra Modi will put the Indian economy back on track, party leader Arun Jaitley said Tuesday.
"Only the BJP and NDA can provide a stable government which is required to put the country's economy back on track," Jaitley told the media while releasing the BJP's Vision Document for Varanasi where Modi is the party candidate.
"The people of Varanasi have got a historic opportunity of not just voting for an MP but the country's prime minister," he added, referring to the party's prime ministerial candidate.
Jaitley added that the Bharatiya Janata Party "will get a clear majority" in the Lok Sabha.
The BJP leader attacked Modi's opponent and Aam Aadmi Party (AAP) leader Arvind Kejriwal, saying people have had a "bitter" experience with him in Delhi.
"They cheated the voters when they formed a government with the support of the Congress. Kejriwal was a governance disaster," he said.
The AAP lacks a clear ideology and changes its views depending on the situation, Jaitley said.(IANS)