Modi will win both Varanasi and Vadodara, claims Rajnath Singh
Submitted by Sarthak Gupta on Thu, 04/24/2014 - 21:08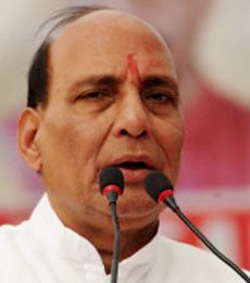 Kathlal (Gujarat), Apr 24 : Bharatiya Janata Party (BJP) President Rajnath Singh on Thursday extended his best wishes to the party's prime ministerial candidate, Narendra Modi, who filed his Lok Sabha nomination from Varanasi.
"I extend best wishes to him from my party and myself, and we are very confident that he will win from both Varanasi and Vadodara," said Rajnath Singh.
On Prime Minister Manmohan Singh dismissing news of a Modi wave in the country, Rajnath said, "I think, nobody should actually pay attention to what the Congress leaders are saying. At this point, they have gone into depression, and therefore, they have no control over what they are saying these days."
He also said that nobody can question the credibility and popularity of Modi, and added that Modi is counted among one of those who have high moral values.
Earlier, Modi filed his nomination from the Varanasi constituency, and said that he would serve the people of Varanasi with great dedication.
"I am really grateful to the kind of love the people of Varanasi have given me. I used to think that the BJP had sent me here but now I think it is goddess Durga who has sent me here. I hope she gives me the strength to stand up to the expectations of the people here and do a lot for the people of Varanasi," said Modi.
"I had got the opportunity to serve Sabarmati River and I felt that if I get a chance, I would like to do the same for Mother Ganga. We need technological upgradation and branding to improve Varanasi. I believe that our weavers can compete with China," he said.
Modi supporters gathered in huge numbers and raised slogans in support of the Gujarat chief minister as he approached the polling station.
Modi also paid tribute to former Congress president Madan Mohan Malviya, spiritual thinker Swami Vivekananda and Dr. B. R. Ambedkar, the architect of India's Constitution and Sardar Vallabhbhai Patel, India's first home minister, as he filed his nomination. .
The BJP leader is facing electoral challenges from Arvind Kejriwal of the Aam Aadmi Party, Ajai Rai of the Congress and candidates of the Bahujan Samaj Party, the Samajwadi Party and Mamata Banerjee's Trinamool Congress. (ANI)
Technology Sector