Modicare launches new range of Skin and Beauty products
Submitted by Piyush Diwan on Sun, 07/18/2010 - 03:30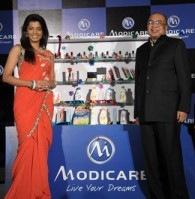 In order to enhance your look, Modicare's Essensual has launched 20 new products in its portfolio. This new skincare and beauty care range by the Pharma Company includes products like Nourishing Day Gel Cream, Nourishing Day Cream, Age Gracefully Foundation, Maxi Length Mascara and Make up Remover.
The products available at all the Modicare Centers and Modicare Consultants, is priced at a band of Rs. 200-600. The size of the products also comes in a variety of options ranging from 9ml to 50ml.
A unit of the Modi group- Modicare is one of India's leading Direct Selling Companies. The company also wears the tag of few Indian companies to challenge the Pharma industry dominated by multinational giants.
At present the company has 36 centers across the country that reached out to over 2,700 cities.
All the products by the company are suited to Indian tastes and are formulated according to international standards developed at the Company's own R&D center.