Modi's visit to Nepal not only historic, but very successful: Sushma Swaraj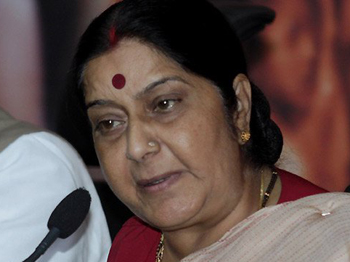 New Delhi, Aug 6 : External Affairs Minister, Sushma Swaraj told the Lok Sabha today that Prime Minister Narendra Modi 's Nepal visit was not only historic, but also successful.
Making a suo motu statement in Lok Sabha External Affairs Minister Sushma Swaraj said: "I rise to inform the august House of Prime Minister's historic and highly successful visit to Nepal on 3-4 August this year. I would like to begin by conveying our sincere gratitude to Prime Minister Sushil Koirala for the excellent arrangements and warm hospitality accorded to Prime Minister and the delegation."
Highlighting that fact that Modi was the first prime minister to visit Nepal after 17 years, Swaraj also informed the House of Modi's meetings with the top leadership of Nepal and other political party leaders, as also the details of what was discussed in terms of bilateral relations between the two nations.
"This was the first bilateral visit by any Indian Prime Minister to Nepal in 17 years, since June 1997. It was Prime Minister's second bilateral visit abroad after assuming office. Prime Minister was received at the airport, as a special gesture, by Prime Minister Sushil Koirala himself, and extended a ceremonial welcome. Prime Minister's motorcade was greeted by thousands of ordinary Nepalese, who thronged the streets spontaneously. The Prime Minister got down from his car at several points to thank them for their warm reception and greetings, and got unprecedented response from the people assembled," she said.
"Madam Speaker, during his visit, Prime Minister met with President Ram Baran Yadav. Prime Minister held talks with Prime Minister Sushil Koirala. Hon'ble Prime Minister was the first foreign leader to address the Constituent Assembly (CA)-cum-Legislature Parliament of Nepal, where he was received by the Chairman of the CA Subas Chandra Nembang. Foreign Minister Mahendra Bahadur Pandey, and leaders of the major political parties, viz., the Leader of the Opposition and UCPN(M) Chairman Prachanda, the CPN-UML Chairman KP Oli, the Madhesi leaders, the Senior leader of Nepali Congress Sher Bahadur Deuba, and the RPP-N Chairman Kamal Thapa, called on the Prime Minister. A delegation of leading Nepalese businessmen and businesswomen, including from their apex chambers, called on Prime Minister. Prime Minister did Darshan and puja at the Pashupatinath Temple on the Shravan Somvaar on August 4," she added.
"Our bilateral relations with Nepal are rooted in shared history, geography and culture (roti beti ka sambandh). Our consistent effort has been to further strengthen our close relations at all levels, including in the fields of trade and investment, hydropower, enhanced cross-border connectivity, defence and security including training and joint exercises, culture, education and tourism. We have intensified our high-level political exchanges, and are seeking finalization of necessary inter-governmental agreements and arrangements. We are scaling up our developmental assistance to Nepal in 2014-15 and beyond," she further added.
"Madam Speaker, during Prime Minister's visit, the whole gamut of India-Nepal relations was reviewed. In the past, we have extended our full moral and material support to Nepal in its transition to a Constitutional multi-party democracy and a prosperous economy, including for the conduct of free and fair elections to the Constituent Assembly-cum-Parliament, held in November 2013. Prime Minister's visit signalled India's wholehearted support for a democratic, stable, peaceful and prosperous Nepal," she said.
Talking about prime minister's address to the Nepal's constituent assembly she said, "In his historic address to the CA, Prime Minister said that Nepal's Constitution would set an example to the whole world, especially to strife-torn regions, as a model for abjuring the path of violence and embracing a path of peace and democracy. Asserting that India will always support Nepal's sovereign right to choose its own destiny, the Prime Minister said India wished for a democratic and prosperous Nepal."
"Prime Minister said his Government accorded the highest priority to relations between the two countries, which were as timeless as the Himalayas and the Ganga. "Humaare sambandh kaagaz ki kashtiyon se aage nahin badhe hain. Humaare sambandh dilon ki daastaan kehte hain." Prime Minister dwelt on our common cultural heritage, shared between Kashi Vishwanath and Pashupatinath, and between Lumbini and Bodh Gaya. He said that Nepal was the land that gave birth to Lord Buddha. He saluted the Gorkha soldiers for their sacrifices in the Indian Army.
Prime Minister said that the Constitution of Nepal should be a document like the "Sanhita" of Vedas and Upanishads - it should define a new direction for the country. But, he added, "Rishi-Man" - the mind of a sage - is required for this task. Prime Minister lauded the move away from "Yuddh" towards "Buddh", away from "Shastra" towards "Shaastra". Prime Minister hoped that the Nepali Constitution would be such that would reflect the aspirations of all sections of Nepali society. "Har Nepali ko lage ki yeh ek aisa guldasta hai jismein mere ek phool ki bhi mahak hai." He hoped that the Samvidhaan (Constitution) will represent the ideal of "Sarvjan Hitay, Sarvjan Sukhay". He said that a Constitution unites, it does not divide. Noting that a Federal Democratic Republic - "Sanghiya Loktantrik Ganatantra" - is the goal of the Constituent Assembly, the Prime Minister said India respected and welcomed it."
Swaraj also briefed about the agreements that were signed during the prime minister's visit and the co-operation the prime minister envisaged before Nepal in helping out with its infrastructure.
"Madam Speaker, referring to India-Nepal relations, Prime Minister stressed that economic growth and prosperity of the two countries were closely interlinked. He called for close cooperation in the fields of hydropower, agriculture, and tourism. The Prime Minister said that time had come to change the saying "Paani aur jawaani pahaad ke kaam nahin aate", by giving our youth opportunity by harnessing natural resources. India wants to walk shoulder-to-shoulder with Nepal in its journey of progress, the Prime Minister asserted. He said that Nepal's hydropower potential can make Nepal a prosperous country, and that India had no intention of taking away Nepal's resources but would be purchasing surplus power from Nepal. He urged that the Pancheshwar multi-purpose project should be taken up at the earliest. He noted that electricity transmission capacity is being augmented to enable the doubling of power supply to Nepal. The Prime Minister announced that India will extend a USD 1 billion concessional line of credit to Nepal. He also announced that India would assist in the construction of a bridge over the Mahakali river, that would bring Western Nepal closer to India. The Prime Minister gave a HIT formula for Nepal, saying India wants to help Nepal build highways (H), information highways (I) and transways - transmission lines (T). May the friendship between India and Nepal live long, and may Nepal rise higher than the Himalayas, the Prime Minister said."
"Prime Minister made several announcements of Indian assistance for priority projects of Nepal. The US$ 1 billion line of credit will be over and above the existing US$ 350 million lines of credit to Nepal. The Terms of Reference of the 5600 MW Pancheshwar Multi-Purpose Project were agreed upon, and the Pancheshwar Development Authority will be set up and the DPR will be finalized soon. Both sides agreed to conclude a Power Trading Agreement in 45 days, and the Government of Nepal assured that a Project Development Agreement (PDA) on the 900 MW Upper Karnali Hydropower Project would also be finalized in 45 days. Both sides expressed a desire for early conclusion of three other PDAs namely the 900 MW Arun III, the 600 MW Upper Marsyangdi and the 880 MW Tamakoshi III. They emphasized that development of projects of this size will be a major catalyst for the development of Nepal's enormous hydropower potential," she said.
"Both sides agreed to expedite the construction of Phase-I of the Terai Roads project, and to commence Phase-II within a year. Some new proposals, that we agreed to consider, are the eastern sector of Mid Hill Highway and the Kathmandu-Nijgarh fast track road. At Nepal's request, we agreed to examine the project for the construction of Raxaul-Amlekhgunj petroleum pipeline. Some of the new projects can be considered for funding under the new Line of Credit. It was decided to work towards the finalization and signing of the revised Rail Service Agreement, Motor Vehicle Agreement, Letter of Exchanges on Trade and Transit and ratification of the BIPPA. It was also decided to expedite the construction of cross border railway links and Integrated Check Posts (ICPs), which will facilitate cross border trade and transit as well as Nepal's export to and import from third countries," she added.
"The enhancement of ITEC and Colombo Plan scholarship slots for Nepal from 180 to 250 was announced. A Nepal-Bharat Maitri Shiksha Karyakram, for short-duration courses cum exposure visits for Nepalese undergraduate students in the leading Indian universities was also announced." she further added.
The External Affairs Minister also shared a light on Modi visit to Pashupatinath shrine and also about his intention to review the 1950 Treaty of Peace and Friendship.
"Prime Minister gifted 2500 kg of sandalwood to the Pashupatinath temple. Government of India will assist the renovation and restoration of the Pahsupatinath comple, at a cost of about Rs. 25 crore over five years. An MOU on Indian assistance for Goitre control programme in Nepal, and an MOU between Doordarshan and Nepal Television Corporation, were signed during the visit. The two Prime Ministers released a commemorative postage stamp to mark the Prime Minister's visit," she said.
"The two Prime Ministers agreed to review, adjust and update the Treaty of Peace and Friendship of 1950 and other bilateral agreements. They welcomed the decision of the Joint Commission to direct the Foreign Secretaries of the two countries to meet and discuss any specific proposals to revise the Treaty of Peace and Friendship of 1950, which the Government of Nepal agreed to provide at the earliest. Both sides welcomed the formation of a Boundary Working Group (BWG) to undertake the construction, restoration and repair of boundary pillars. It was decided to establish an Eminent Persons Group on Nepal-India Relations (EPG-NIR) to look into the totality of Nepal-India relations from an independent, non-governmental perspective and suggest measures to further expand and consolidate the close and multifaceted relations between the two countries. Both Prime Ministers noted with satisfaction the excellent cooperation on security related matters and reiterated that the open border, which has facilitated movements of people on both sides of the border and has been a unique feature of Nepal-India bilateral relations, should not be allowed to be misused by unscrupulous elements posing security threats. Nepal and India assured each other not to allow their territory to be used against each other," Swaraj added.
Swaraj reminded the house that the present government attaches high importance to the relationship with Nepal and that he touched with the hearts and minds of people of Nepal.
"Following the invitation to all the SAARC leaders for PM's swearing-in ceremony in May 2014, Prime Minsiter's visit to Bhutan in June 2014 and my two bilateral visits to Bangladesh and Nepal, the Prime Minister's visit to Nepal underscored the highest priority that we attach to our neighbourhood. Prime Minister's talks with Nepalese leaders were held in an atmosphere of utmost warmth and cordiality, marked by deep friendship and understanding which characterize the close relations between the two countries," Swaraj said.
"Madam Speaker, Honourable Prime Minister was very satisfied with the outcome of the visit to Nepal. He touched the hearts and minds of the all the Nepalese people, that was conveyed to him in so many words by all his interlocutors including the President, the Prime Minister and leaders of leading political parties. Several Nepalese leaders said that "aapne man aur mastishk jeet liya hai", that this is a new era in relations, that "if there were any misgivings about India-Nepal relations in the minds of Nepalese, you have clarified them all." Prime Minister's visit further enhanced the mutual trust and confidence between India and Nepal. The Prime Minister's visit has given a whole new impetus, new direction and new dynamism to our vital relationship with Nepal, which we are determined to further intensify and build upon," she added. (ANI)