Moldova President Voronin elected parliament speaker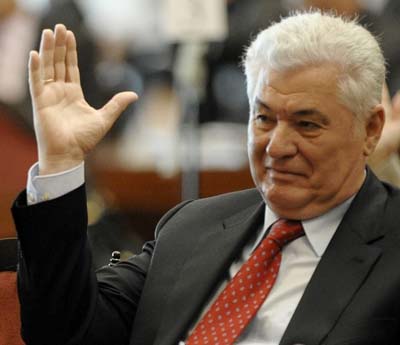 Chisinau - Outgoing Moldova President Vladimir Voronin was elected parliament's new speaker on Tuesday, consolidating Communist control of political power in the former Soviet republic.
A total 60 Communist MPs supported Voronin's candidacy for the top legislative job, a comfortable majority in the 101-seat Moldovan parliament.
MPs from three opposition parties holding a total 41 seats in the legislature either voted against the motion, or failed to cast ballots.
Voronin, head of Moldova's Communist party, is scheduled to end his second presidential term this month, and he constitutionally barred a third term.
He had been widely predicted to take the parliament speaker job.
Voronin after his election called on the opposition to join forces with the Communists in passing legislation needed to deal with the effects of the international financial crisis on Moldova.
All MPs "should work collectively...to overcome the difficult situation our country faces," Voronin said, according to an Infotag news agency report.
The top item for parliamentary debate in coming weeks will however be the nomination and election of Voronin's replacement, observers said.
Moldova's President is elected by parliament. The Communists currently are one vote short of the 61-member "60 per cent plus one majority" required by law to select a new President.
Opposition leaders have said they will refuse to participate in the Presidential nomination process. If their threat is made good a hung legislature unable to select a president could force new parliamentary elections.
The Communists will succeed in getting the single vote needed from a defector from opposition ranks, to push their Presidential candidate through parliament, Voronin predicted last month.
Moldova's parliamentary elections in early April ended in chaos after opposition activists, many students alleging the Communists had fixed the vote, broke into the parliament building and set it on fire.
One person died and more than 200 were injured in two days of battles between opposition activists and police. It was the worst election violence seen in Moldova in a decade.
Voronin said the Communist April 5 polling victory was free and fair, an opinion supported by most international observers. (dpa)